THE DIVINE WITHIN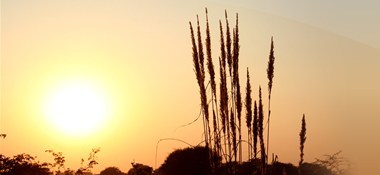 Understood by various religions and experienced by mystics, beyond everything that exists is an eternal Divine Being – One in whom all things exist. This Being – God, Brahman, universal Consciousness, the absolute Reality, the Source of all, the true Self, the ground of one's being, the divine Mystery, and so forth – is both immanent and transcendent. The power and majesty of this One are beyond grasp. This Divine Oneness penetrates the entire universe, being present within everything. All things, animate and inanimate, originate from and exist in God. Physical realities veil this one ultimate transcendent Reality, yet are manifestations of it. Because the One is all that exists, all created forms are connected to God and also mutually inter-connected.
Humankind was created as a vessel to receive the Divine, that spiritual Light which pervades the universe. Every man and woman bears the image of God and carries the omnipresent God-life in the sanctuary of their heart. In the Hindu tradition, the Upanishads refer to the spirit of the One who created the universe as dwelling in a person's heart. This divine aspect within each person – also referred to as the soul – is understood as the source of infinite love within us.
According to Christian understanding based on the New Testament, the Spirit of God – the life and love of God – is found in the heart. Romans 5:5 states: "God has poured out his love into our hearts by the Holy Spirit, whom he has given us". According to Galatians 4:6: "Because you are sons, God sent the Spirit of his Son into our hearts, the Spirit who calls out, 'Abba, Father'". Also, the apostle Paul writes to the Corinthians that God "put his Spirit in our hearts as a deposit, guaranteeing what is to come" (2 Corinthians 1:21-22). Finally, Luke records Jesus saying when asked when the kingdom of God would come: "The kingdom of God does not come with your careful observation, nor will people say, 'Here it is,' or 'There it is,' because the kingdom of God is within you" (Luke 17:20-21). [Emphasis ours.]
Photo credit: Intellimon Ltd.