CONNECTING WITH DIVINE MYSTERY IN THE SILENCE OF THE NIGHT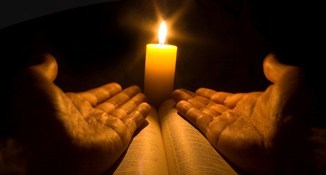 The time just after sunset has a magical quality. Sometimes, after the sun has set, the clouds begin to glow with colours of water and colours of fire. Buildings and mountains also glow, and the sun is reflected like molten gold in the windows of far-away houses. It is a wonderful time to take a walk. At eventide, the daylight fades and the distinct silence of night descends.
Looking up to the night sky, we are reminded of the immense mystery in which we are immersed. The root meaning of the word "mystery" is to shut one's eyes and ears. Mystery is silence, darkness. Darkness is symbol and image for the divine mystery, the nothingness (the no-thing-ness) of the divine realm. The night calls us to set aside time outside the practical demands of the day and to connect with that dark but grace-filled mystery in which we are immersed. Once the bright light of day dawns and the demands of the day begin, it is easy to forget the sacred, timeless dimension of our lives.
Reference: David Steindl-Rast, Music of Silence, 20-21, 27, 94-95.
Photo credit: Intellimon Ltd.