ABOUT THE AUTHORS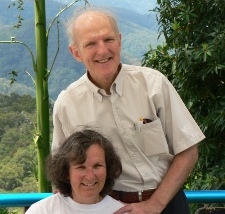 Alexander and Eva Peck write from a Christian and international background. Through their Christian work and teaching English as a second language, they have experienced a range of cultures, having lived and worked in Australia, the United States, Europe, Asia, and the Middle East. As a result, they have interacted with believers from a variety of faith traditions. Their view is that different faith perspectives enrich whatever one's own spiritual path is. They value a nondenominational and ecumenical approach which recognizes that all faiths are in search of transcendent Reality, that a unity among faiths emerges in the lived experience of spirituality, and that oneness with the Divine is possible. Through their own life journey they have discovered the richness of the contemplative dimension of the Gospel and its path to the Life, Light, and Love within.
After receiving post-graduate qualifications in education, Alexander earned two Masters Degrees in Australia with an emphasis in Christian spirituality. Eva, who has an undergraduate degree in science and postgraduate diploma in education, also completed a Masters Degree in Theology in Australia. The Pecks live in Brisbane, Queensland, Australia where they continue to write in the field of Christian spirituality and theology.
Visitors may also wish to visit their websites: www.spirituality-for-life.org and www.truth-and-beauty.org, as well as perusing their book on Bible teachings, Pathway to Life – Through the Holy Scripture, available to preview and purchase through the website, www.pathway-to-life.